Lakes Regional Community Center will ensure access to services and support that enriches the lives of the individuals and families we serve, and we will be the first choice of citizens for their mental health and intellectual and developmental disabilities services.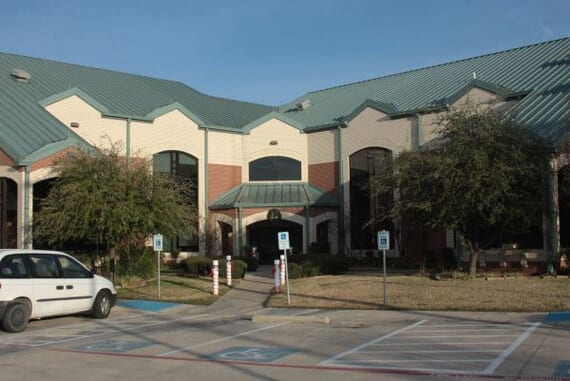 The beginning of Lakes Regional Community Center's creation was the 1996 TDMHMR board's directive to move the delivery of mental health and intellectual and developmental disabilities community services to local control. This coincided with TDMHMR's determination to form State-Operated Community Services (SOCS), in the place of State Facility Community Service Divisions. This reconfiguration of community services brought mental health and intellectual and developmental disabilities services under one administrative structure and separated community services from their host state hospital or state school. As part of this process, Lakes Regional State-Operated Community Services was created. This new entity encompassed services from the following community service divisions: Terrell State Hospital and Denton State School.
On January 28, 1999, the nine County Judges of the counties served by Lakes Regional SOCS sent a letter to TDMHMR Commissioner Hale expressing their desire to form a new Community Center. On April 29, 1999, Commissioner Hale responded favorably to the County Judges of Camp, Delta, Franklin, Hopkins, Kaufman, Lamar, Morris, Rockwall and Titus Counties. In the intervening months, great effort was expended by all staff and the Board of Trustees to complete the complicated preparations associated with conversion of this state operated program into a private, board governed, community nonprofit agency. Formation of Lakes Regional MHMR Center was successfully completed and the Center initiated operations on December 1, 1999.
In September of 2003, after several months of discussion with local officials at TDMHMR and within Hunt County, the MHMR Services of that County formally merged with Lakes. Then Crossroads Council on Alcohol and Drug Abuse in Hunt County ceased operations early in 2004. Soon thereafter, Lakes Regional obtained a facility license from TCADA. A grant was written and received, in conjunction with Hunt County Community Supervision and Corrections Department (HCCSCD), to provide Substance Use Disorder Services to individuals from HCCSCD. Those services are provided in our Greenville Center. Lakes also provides DWI Education classes, Drug Offender Education classes, and Minor in Possession classes. Lakes Regional provides Intensive and Supportive Outpatient services to appropriate individuals at our center in Terrell.
Then in April of 2006, the intellectual and developmental disabilities services of Ellis and Navarro counties merged with Lakes Regional. Having successfully completed the Hunt County merger, we had experience with the tasks required, so the transition went smoothly and continues to be a successful part of our programs.
In 2006, the Northeast Texas Council on Alcohol and Drug abuse in Paris, Texas, closed. Lakes Regional was asked to provide services in Fannin, Grayson, and Cooke counties. Once again, Lakes Regional stepped forward to ensure the continuity of services for consumers in need. It has been gratifying to foster growth in programs and services in all the areas we have assimilated. Lakes Regional administration is highly skilled in managing new aspects of business and keeping our organization financially viable.
Lakes Regional serves as the IDD Authority for Camp, Delta, Ellis, Franklin, Hopkins, Kaufman, Lamar, Morris, Navarro, Rockwall, Hunt, and Titus Counties. It also serves as the MH Authority for seven of the above counties. The exceptions are Ellis, Hunt, Kaufman, Navarro, and Rockwall counties, which are in the NTBHA (North Texas Behavioral Health Authority) and for which Lakes Regional is not recognized as the Mental Health Authority. Substance Use Disorder services are provided in Camp, Cooke, Delta, Fannin, Franklin, Grayson, Hopkins, Hunt, Kaufman, Lamar, Morris, Rockwall, and Titus counties. TCOOMMI adult parole and MH services are provided in Delta, Hopkins, and Franklin counties. TCOOMMI parole continuity services are provided in Hopkins, Delta, Lamar, Titus, Franklin, Morris, and Camp counties.
Lakes Regional operates as authorized under Texas Health and Safety Code, Chapter 531, Section 531.001(h). The TDMHMR Board has designated local entities as mental health and intellectual and developmental disabilities Authorities (MHA/IDDAs). The 74th Texas Legislature amended the Texas Health and Safety Code to define a local mental health or intellectual and developmental disabilities authority as an entity to which the board delegates the authority and responsibility within a specified region for planning, policy development, coordination, resource development and allocation, and for supervising and ensuring the provision of services to persons with mental illness or intellectual and developmental in one or more local service areas.
Director of behavioral health services
Director of Quality Management
Director of Revenue Cycle,
Reimbursement & Billing
Director of Information Technology
Governance and oversight for the Lakes Regional Community Center are provided by a twelve-member Board of Trustees. Each of our trustees represents one of the twelve counties in our service area (Camp, Delta, Ellis, Franklin, Hunt, Hopkins, Kaufman, Lamar, Morris, Navarro, Rockwall, and Titus).
Secretary, Kaufman County